2016 Call Stats
FIRE
EMS
January
171
264
February
91
197
March
116
209
April
116
215
May
70
224
June
136
232
July
115
212
August
99
226
September
111
223
October
140
239
November
December
Total
1165
2241
Unit Run Stats
Unit
P-127
681
P-128
788
P-129
829
E-123
318
E-124
125
TWR-12
105
SQ-12
168
Duty 12
147
U-12
227
BR-125
36
ATV-12
18
HMV-12
17
Total
3459
Past Responses
Year
Fire
EMS
2015
1,427
2,852
2014
1,006
2,619
2013
828
2,123
2012
764
2,261
2011
864
2,139
2010
859
2,215
2009
1,017
2,182
2008
835
2,127
2007
1,057
1,966
2006
1,071
1,947
2005
960
1,849
Web Counters
Website Visitors
Since
January 1, 2012

Visitors Today
Dec 06, 2016


"Like" our Facebook page here!
Follow us on Twitter @SykesvilleFD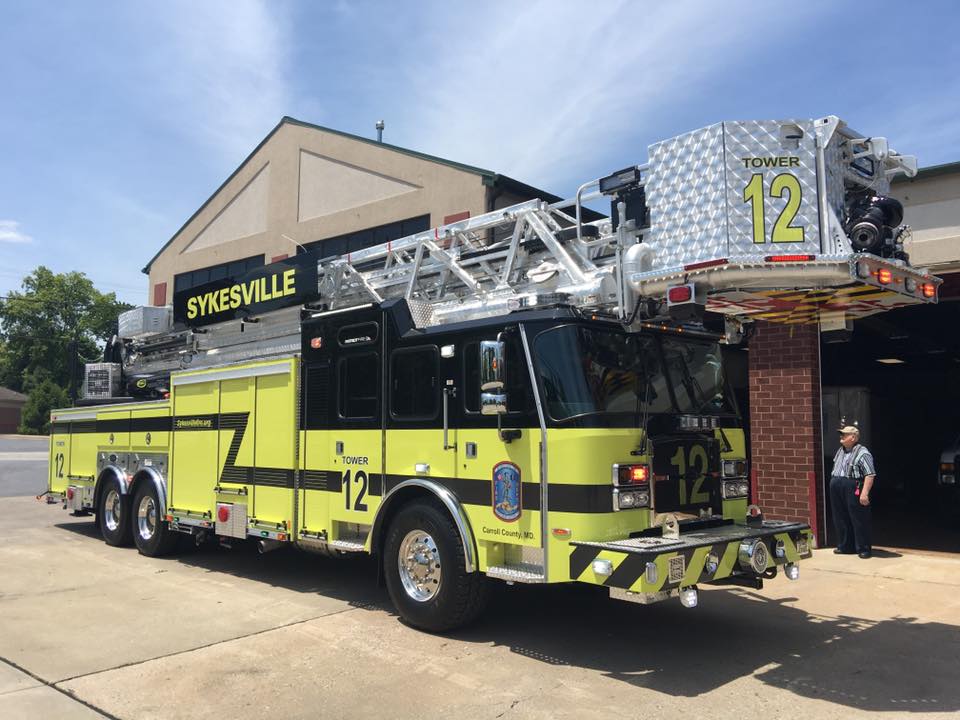 Vehicle Accident with Entrapment

SYkesville Fire Department , December 01

Yesterday at 10:24 am, Sykesville Fire and Rescue units responded to Route 32 just North of Springfield Avenue for reported vehicle accident with entrapment.

Units arrived on the scene and found a three vehicle head-on accident one which was County Sheriff's Deputy. The crews went to work checking on patients and found that the Deputy was unable to get out of his vehicle. The crew from Rescue Squad ... (Full Story & Photos)

Vehicle Collision with Door Pop

Sykesville Fire Department , November 29

Yesterday at 1:30 pm Sykesville and Winfield Units were dispatched to Liberty Road at Georgetown Blvd for a reported vehicle collision with entrapment. Medic 149 and Engine 124 responded and were advised that a Sheriff's Deputy was on the scene advising one subject trapped.

Engine 124 arrived to find a two car accident with one occupant still in the car. The crew from Engine 124 went to work stabilizing ... (Full Story)




Santa Breakfast at Sykesville FD on Sunday, December 4th 2016

Firefighter/EMT Christine Flanagan, November 27

Come see Santa arrive on the Fire truck and then get your picture taken in Santa's beautiful Sleigh on Sunday, December 4th, 2016 from 8am to 12:00pm.

Adults $8.00 Children 3-12 are $4.00, Under 3 are free.

Tickets available at the door. Bake Sale table with lots of yummy treats.

Bring a new unwrapped toy to donate to the John Hopkins Pediatric Unit and make Christmas more special for these ... (Full Story)




Tower 12 to Frederick for Another House Fire

Chief Eddie Ruch Jr, November 26

On Saturday evening Tower 12 responded to the 14,000 block of Peddicord Road in Frederick County to assist units on the scene of a woods and house fire.

Tower 12 operated for a couple hours before returning to Sykesville. ... (Full Story)





Photo provided by Chief 14

Engine and Tower Assist on Shed Fire

Chief Eddie Ruch Jr, November 26

On Saturday just before noon Engine 124 and Tower 12 responded along with Winfield Units to the 5000 block of Viewpoint Court for a reported shed and brush fire.

First arriving Chief 14 reported a shed fully involved behind a house.

Tower 12 and Engine 124 arrived and assisted Station 14 units with advancing handlines and extinguishing the fire. ... (Full Story & Photos)

LISTEN LIVE TO CARROLL COUNTY, MD FIRE COMMUNICATIONS
(CLICK HERE)

MISSION STATEMENT
It is the mission of the Sykesville-Freedom District Fire Department to preserve life and property, promote public safety and foster economic growth through leadership, management and actions, as an all risk life safety response provider.