Curis Use Tracker for CoVID-19 Pandemic
COVID -19 Information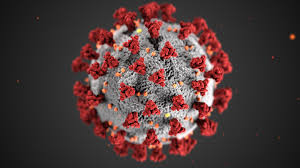 UPDATE: Carnival Cancelled
We regret to announce that, due to the continued COVID-19 response, we are cancelling the annual carnival this year. We apologize for having to do so.
Please understand that the carnival is our major fund raiser for the year, so if you find yourself in the position to consider a financial donation to the department, it will be more than appreciated.
In the meantime, we continue to stand ready to answer each and every call for help.
We appreciate more than ever your support in these difficult times. Thank you!
Help us do some fundraising and
check out the new McDonald's at the same time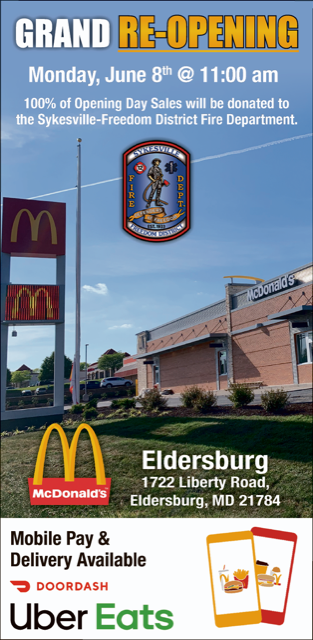 ---
WE ARE HIRING!
CLICK HERE FOR MORE INFORMATION!
---
"Like" our Facebook page here!
Follow us on Twitter @SykesvilleFD
Working House Fire in Woodbine

Firefighter/EMT Bill Flanagan, March 26

Box alarm 12-04 was sounded at 10:18 am on March 26, 2020 for a report of a house on fire in the 7400 block of Old Washington Road in Woodbine. Units from Sykesville, Winfield, Lisbon, Glenwood and West Friendship were on the initial dispatch. The first responding units called for a tanker task force based on the initial call reports of a working fire. The working fire was soon confirmed by an off-duty ... (Full Story & Photos)

SFDFD Urgent Coronavirus Update

Chief Eddie Ruch Jr, March 12

The Sykesville-Freedom District Fire Department is complying with Governor Larry Hogan's statewide order to cancel the hosting of large events because of the outbreak of the COVID 19 virus.

To that end, the firehouse and Legacy Hall are closed to all visitors. All social and rental events at Legacy Hall are postponed until further notice. The sportsman raffle scheduled for March 21'st is also postponed ... (Full Story & Photos)

Fire at Strawbridge Home for Boys

Firefighter/EMT Bill Flanagan, March 07

The former and historic Strawbridge Home for Boys building at 5714 Strawbridge Terrace caught fire on Friday night. Fire crews were dispatched at 7:54 pm and the fire was placed under control around 8:20 pm. The Original call was for a possible house fire, but was soon upgraded to a working house Fire after multiple 911 calls were received as well as the distant sightings from the responding fire ... (Full Story & Photos)

House Fire with Rescue in Marriottsville

Firefighter/EMT Bill Flanagan, February 04

The Sykesville Fire Department in southern Carroll County was alerted at 10:08 this morning for a report of a house fire in the 1700 block of Carpenters Drive in Marriottsville, Maryland. The initial reports was for a fire on the stove with the house filled with smoke. Gamber, Winfield, West Friendship responded with Sykesville on this call. The report of the house fire escalated to a house fire with ... (Full Story & Photos)

LISTEN LIVE TO CARROLL COUNTY, MD FIRE COMMUNICATIONS
(CLICK HERE)

MISSION STATEMENT
It is the mission of the Sykesville-Freedom District Fire Department to preserve life and property, promote public safety and foster economic growth through leadership, management and actions, as an all risk life safety response provider.