2016 Call Stats
FIRE
EMS
January
171
264
February
91
197
March
116
209
April
116
215
May
70
224
June
136
232
July
46
100
August
September
October
November
December
Total
746
1441
Unit Run Stats
Unit
P-127
470
P-128
402
P-129
515
E-123
192
E-124
67
TWR-12
53
SQ-12
109
Duty 12
86
U-12
143
BR-125
22
ATV-12
10
HMV-12
17
Total
2086
Past Responses
Year
Fire
EMS
2015
1,427
2,852
2014
1,006
2,619
2013
828
2,123
2012
764
2,261
2011
864
2,139
2010
859
2,215
2009
1,017
2,182
2008
835
2,127
2007
1,057
1,966
2006
1,071
1,947
2005
960
1,849
Web Counters
Website Visitors
Since
January 1, 2012

Visitors Today
Jul 24, 2016


Latest 10 Responses

07/09/2014: 10:28 CT:ALS MEDICAL CALL 4008 SALEM BOTTOM RD BOX:1418 DUE:E141 E123
07/09/2014: 10:28 CT:ALS MEDICAL CALL 4008 SALEM BOTTOM RD BOX:1418 DUE:E141 E123
07/09/2014: 10:22 CT:BLS MEDICAL CALL 5933 SNOWDENS RUN RD BOX:1207 DUE:X128
07/09/2014: 10:22 CT:BLS MEDICAL CALL 5933 SNOWDENS RUN RD BOX:1207 DUE:X128
07/09/2014: 10:18 CT:ALS MEDICAL CALL 4008 SALEM BOTTOM RD BOX:1418 DUE:X128 FR14
07/09/2014: 10:18 CT:ALS MEDICAL CALL 4008 SALEM BOTTOM RD BOX:1418 DUE:X128 FR14
07/09/2014: 09:14 CT:MUTUAL AID ALARM 70-36 70 E/B AT ROUTE 32 VCR LADNING SITE B1 BOX:HC DUE:E123
07/09/2014: 09:14 CT:MUTUAL AID ALARM 70-36 70 E/B AT ROUTE 32 VCR LADNING SITE B1 BOX:HC DUE:E123
07/09/2014: 07:34 CT:ALS MEDICAL CALL 1326 LONDONTOWN BLVD @HOME DEPOT BOX:1222 DUE:X128
07/09/2014: 07:34 CT:ALS MEDICAL CALL 1326 LONDONTOWN BLVD @HOME DEPOT BOX:1222 DUE:X128
National Weather Service Alerts for Carroll County, MD
"Like" our Facebook page here!
Follow us on Twitter @SykesvilleFD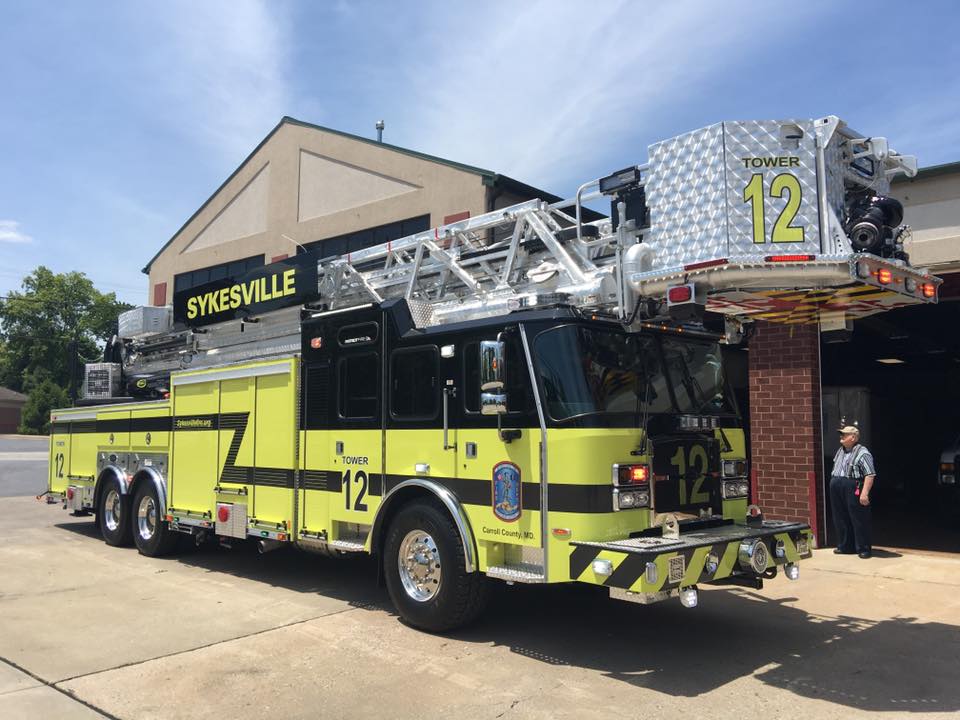 SFDFD Annual Carnival Raffle Winners

President David Kreimer, July 01

Congratulations to the following ticket holders for winning the $6,000 Raffle at our Annual Carnival.

$3,000 - Ticket #072249

$2,000 - Ticket#073008

$1,000 - Ticket#042166

And Thank You to everyone who came out to support the Department during our annual Carnival. ... (Full Story)





A motorcyclist was critically injured after his bike crashed into a truck in Eldersburg

Motorcyclist Critically Injured In Crash With Pickup

Public Information Officer Bill Rehkopf, June 17

An unidentified motorcyclist suffered severe, life-threatening injuries on Friday (6/17) when his motorcycle collided with a pickup truck on Londontown Boulevard in Eldersburg.

Sykesville fire and EMS units received the call shortly after 1:00 pm. Chief Ed Ruch, Jr., aboard Rescue Squad 12, reported a working rescue upon arrival, immediately requesting Maryland State Police aviation.

The motorcyclist ... (Full Story & Photos)

New Tower 12 Preparing For Service

Public Information Officer Bill Rehkopf, May 27

Maybe you've seen it around town, and it caught your eye. Perhaps you've seen the tower rising above the firehouse. Sykesville's new Tower 12 is getting closer to being placed in service.

The new piece is an E-ONE Cyclone II Extreme Duty HP 100' Rear Mount Platform, and replaces our 2003 E-ONE 95' aerial platform/pumper, which was sold.

The tower features an extended cab with seating for six firefighters. ... (Full Story & Photos)



The new Tower 12 will be in service soon


Sykesville Fire Lieutenant Rob Schombert lets future guide dog get desensitized to the sounds, smells and big vehicles as part of their overall training.

Guide Dogs Visit SFDFD For Training

Public Information Officer Bill Rehkopf, April 30

Several dogs in training to be guide dogs stopped by the Sykesville firehouse recently as part of their overall training.

Fire Lieutenant Rob Schombert has been working with the Guide Dog Foundation and America's VetDogs for several years now. The dogs are brought to the station where they are exposed to firefighters in full gear, sirens and large vehicles.

The idea is to desensitize the animals ... (Full Story & Photos)

UPDATE: Firefighter Kevin Swain Continues Recovery At Home

Public Information Officer Bill Rehkopf, April 25

Firefighter Kevin Swain continues his recovery from gunshot wounds he suffered while on duty with the Morningside VFD in Prince Georges County, April 15.

Kevin will have follow up appointments at Shock Trauma, and will continue to receive physical therapy for his injuries. His spirits are high, and he is continuing to take paramedic classes via Skype until the semester concludes in two weeks. He ... (Full Story & Photos)



Kevin requested that this picture be posted of him and the Morningside crew that was on the call with him the night he was shot. Pictured, L-R: Firefighters Matt Ward, Branden Fitch, Kevin, Quida Livingston and Mike O'Brien

LISTEN LIVE TO CARROLL COUNTY, MD FIRE COMMUNICATIONS
(CLICK HERE)

MISSION STATEMENT
It is the mission of the Sykesville-Freedom District Fire Department to preserve life and property, promote public safety and foster economic growth through leadership, management and actions, as an all risk life safety response provider.